When we leave Delhi on Saturday we will have been here for a week and rather than detailing exactly what we did we have put together a quick précis which really just a picture gallery!
There is just so much going on here  (population-wise it's at least the size of Istanbul).  We booked a driver, Rakesh, through a tourist office, and while this is a more expensive option than perhaps getting around ourselves, it took the thinking out of it and was very convenient. And relatively speaking it wasn't expensive for us westerners visiting a capital city.  We also think that we wouldn't have seen so much in the two days we had for touristy things. Rakesh was brilliant and has also helped us with planning our cycling out of Delhi, so for us he was invaluable.
We did a day trip to the Taj Mahal and Agra Fort in Agra, which is about a 3 hour drive from Delhi. The Taj Mahal is, of course, iconic and a World Heritage site, and well worth the journey. We got there super early (6:30am) to see the sun rise and to beat the crowd.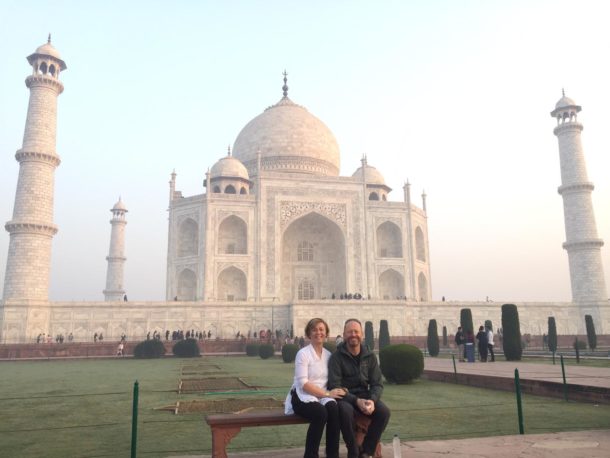 Agra Fort was unknown to us, but also well worth a visit as it joins the history of the Murgul dynasties' together.
Whilst in Delhi itself we had two days sightseeing – one day in Old Delhi and one day in New Delhi. We visited…
Akshardham Temple which is a new temple that follows the teachings of a line of gurus. Very glitzy on the inside and intricately carved on the outside….
…the Red Fort, which was nice, but we weren't that taken with it to be honest as it was pretty similar to Agra Fort, which we had already done.
Chandni Chowk market, which is just bonkers – very narrow crowded alleyways with rickshaws, motorbikes, scooters, people, cows etc all in the same space.
Gurudwara Sis Ganj Sahiv – Rakesh took us into the temple where a ceremony was going on. We sat at back to watch – this is mainly a Sikh temple where they pray to a book.  There line of 10 gurus through history, after which the guru is the book that they learn from and pray to. We also had lunch in their communal food hall, which was a lovely experience.
India Gate – paid our respects to India's fallen service personnel – 60,000 died in WW1 alone.
Houses of Parliament – saw PM Modi whizz past in a convoy of cars and couldn't really see the parliament building or the president's because of smog, but we weren't too fussed.
Qutub Minar – this was our favourite place in the whole trip.  We'd never heard of this very old mosque complex before and were really taken with it as it is absolutely beautiful. It must have been amazing when it was still completely intact. As it is the minaret is the tallest in the world and another World Heritage site it is well worth the visit. We would highly recommend!
Lotus Temple – a complete contrast to Qutub Minar as this is a new temple designed by the same architect who did the Sydney Opera House. It's very plain and unadorned inside which makes a difference to the other temples we have been in. The temple is of the Baha'i religion which teaches the essential value of all religions and the unity and equality of all people – sounds good on paper!
Humayun's Tomb – this the precursor to Taj Mahal, just much smaller and in red sandstone, or at least the Taj Mahal is based on this building. Though it's nice neither of us were particularly taken by it – we may, however, have been touristed out by this point!
Ghandi memorial – we had to come here as Ghandi is a bit of a hero of mine (along with a gazillion other people) ever since I was taken to see the film in the 80s when at school. We can still learn a lot from him and he continues to influence people even from beyond the grave, or river in his case as his ashes were scattered in the Ganges 49 years after being cremated at this place.
Our impressions of Dehli and India to follow in the next blog….